Videos
In our role as cultural presenters, the Howard Gotlieb Archival Research Center offers a variety of events that are open to the public and the Boston University community. Many of the videos on this page are recordings on these lectures and talks. Also featured are interviews with some of our notable collectees.
Filter Videos
Search
(only applies to videos)
11/28/2018
November 28, 2018. Academy Award-winning actor and producer Michael Douglas visited Boston University to receive the Bette Davis Lifetime Achievement Award. Mr. Douglas sat for an on-stage interview with WBUR's Jeremy Hobson; film critic Joyce Kulhawik (www.joyceschoices.com) was Master of Ceremonies for the evening. Running Time 42:55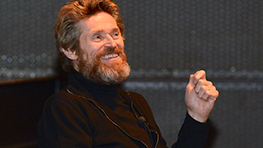 3/19/2018
Acclaimed actor Willem Dafoe visits Boston University and discusses his life and career with Dr. Harvey Young, Dean of the College of Fine Arts.